Description
♥ Back by popular demand …. ♥
This registration link is for DALLAS teams only 
All Texas Spaceland locations will host the competition!!!!!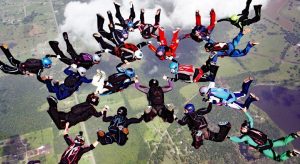 Yep, you can make kick-ass sequential skydives then go sleep in your own bed afterwards!
IMPORTANT – Sunday is the "weather day" for this meet.  If one or more teams are not able to make their meet jumps on Saturday due to weather or aircraft issues, they will be allowed to make their jumps on Sunday. 
Competition jumps are covered by Skydive Spaceland for team captains and video flyers (yes, they still have to pay the registration fee).
More info, questions, answers, and discusson on the book of faces: https://www.facebook.com/events/647960196453199