Description
This registration link is for DALLAS teams only 
All Texas Spaceland locations will host the competition!!!!!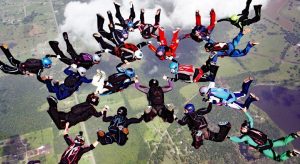 ⭐ Lower registration cost.
⭐This year features a custom embroidered TeXXas patch instead of an event t-shirt.
⭐You spoke.  We listened.
IMPORTANT – Sunday is the "weather day" for this meet.  If one or more teams are not able to make their meet jumps on Saturday due to weather or aircraft issues, they will be allowed to make their jumps on Sunday. 
Competition jumps are covered by Skydive Spaceland for team captains.
Competition jump tickets will be $31.50 for each competitor (except the team captain).  The extra buck-50 is to cover the video slot.
More info, questions, answers, and discussion on the book of faces: https://www.facebook.com/events/127245180208715