Skydive Spaceland is home to several medal-winning and up-and-coming competitive teams, including some world record holders! If you are interested in forming a team at Skydive Spaceland, we'd love to talk to you! Check out our team jump rates below to start.
Dallas Disturbance 16
2015 USPA National Silver Medalists (the only team other than Arizona Airspeed, the US Army Golden Knights or Deguello to earn a silver or better in the history of 16-way at the USPA Nationals)
Dallas Disturbance will field additional teams in 4, 8 and 10-way skydiving at US Nationals.
For the 2016 season, Dallas Disturbance is comprised of 18 highly accomplished skydivers from across the USA
The team averages 5 USPA medals per person across 4, 8, 10 and 16-way formation skydiving
The members of Dallas Disturbance average over 3,600 skydives each for a total of more than 65,000 combined skydives
The team's median age is 41 with 18 years in the sport
Mission: to continue to change how 16-way is trained and disturb the staid National standings.
Team Roster 2016: Amanda Lampton, Dave Eisele, Diane Chamberlain, Erin Kruth, Ian Pedowitz, Jens Gronemeyer, Joshua Lukes, Karen Bilder, Kim Hollander, Larry Henderson, Dave Grabowski, Patrick Lehner, Rita Sandt, Roland Hicks, Ronald Shipp, Scott Elmer, William Binder, Zach Lewis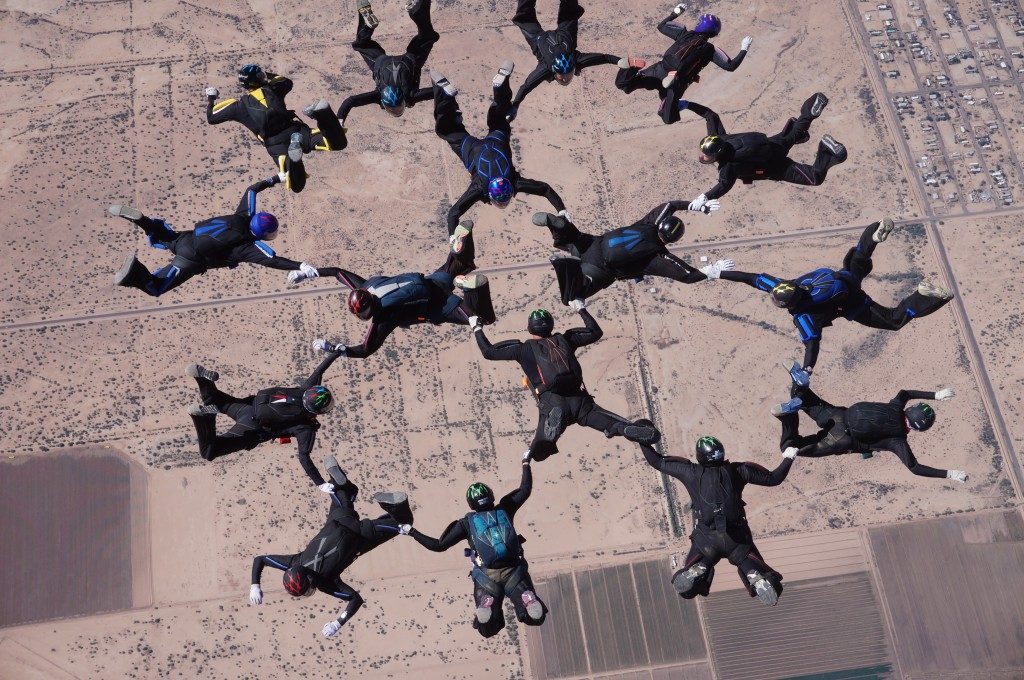 Dallas 350
2016 roster: Scott Latinis, Scott Levy, Lucas King, Amanda Lampton, and Al Levy (v)
Team was formed in 2013
4-Way Advanced Gold Medalists, 2014 USPA Nationals
USPA Nationals averages by year: 2013 – 13.50, 2014 – 15.10, 2015 – 16.00
Dallas InterSpeediate
2017 roster: Scott Latinis, Zach Breaux, Genier Oliver, Lacey Breaux, Al Levy (v)
InterSpeediate is a 4-way formation skydiving

team

birthed in 2017 from a Twin Otter amidst wind, jet fuel, and heaps of well-timed grips.
Stay tuned for more info on this year's teams!
Competitor Rates *

Price per slot

Freestyle with video 
$28
($56 if freestylist covers video slot)
2way with video 
$28
($42pp if formation flyers split video slot)

4way with video 

$28


($35pp if formation flyers split video slot)
8way with video

$28


($31.50pp if formation flyers split video slot)
16-way with video

$28


($29.75pp if formation flyers split video slot)
* Prices for experienced skydivers with their own gear jumping from any altitude up to 14,000 feet. Have questions or wish to negotiate a different rate? Ask Stephen
Ready to get started with your team? Awesome! Please fill out our online team registration form, and we'll be in touch soon! Email Stephen if you have any questions.