Following are several frequently asked questions about first-time skydiving at Skydive Spaceland. Please call us at 1-800-SKYDIVE (or 903-364-5103) if you have any more questions, we'd love to talk to you!
Things to Know Before Your Jump
What is the age limit for skydiving?
You must be at least 18 years old to skydive and bring a valid photo ID with you. Parental consent under 18 doesn't count here… sorry.

What should I bring?
A government-issued photo ID, athletic clothes that will fit under a jumpsuit, athletic (tennis) shoes, and a form of payment for tips if you feel we've earned it!
One thing to NOT bring is yourself if you are currently ill or have been ill in the last couple of days. If this is the case, please call us at 903-364-5103 to reschedule your skydive for when you are feeling better.
PLEASE NOTE that to combat online fraud, we also require you to bring the credit card used for the purchase if you made your reservation online.

Is there a weight limit for tandem skydiving?
Yes. We can take tandem skydivers up to about 265 pounds, but there are additional fees for people over 220 pounds. This fee goes primarily to the instructor.
220-239 pounds: $25
240+ pounds: $45
Also, we need to evaluate some skydivers over 180 pounds on a case-by-case basis to ensure the skydiving harness will fit you safely. Please take a look at the height/weight chart below and if anyone in your party falls into the yellow area on the chart, call us (or have them call us) ahead of time at 903-364-5103 so we can get started on that and answer any questions you may have.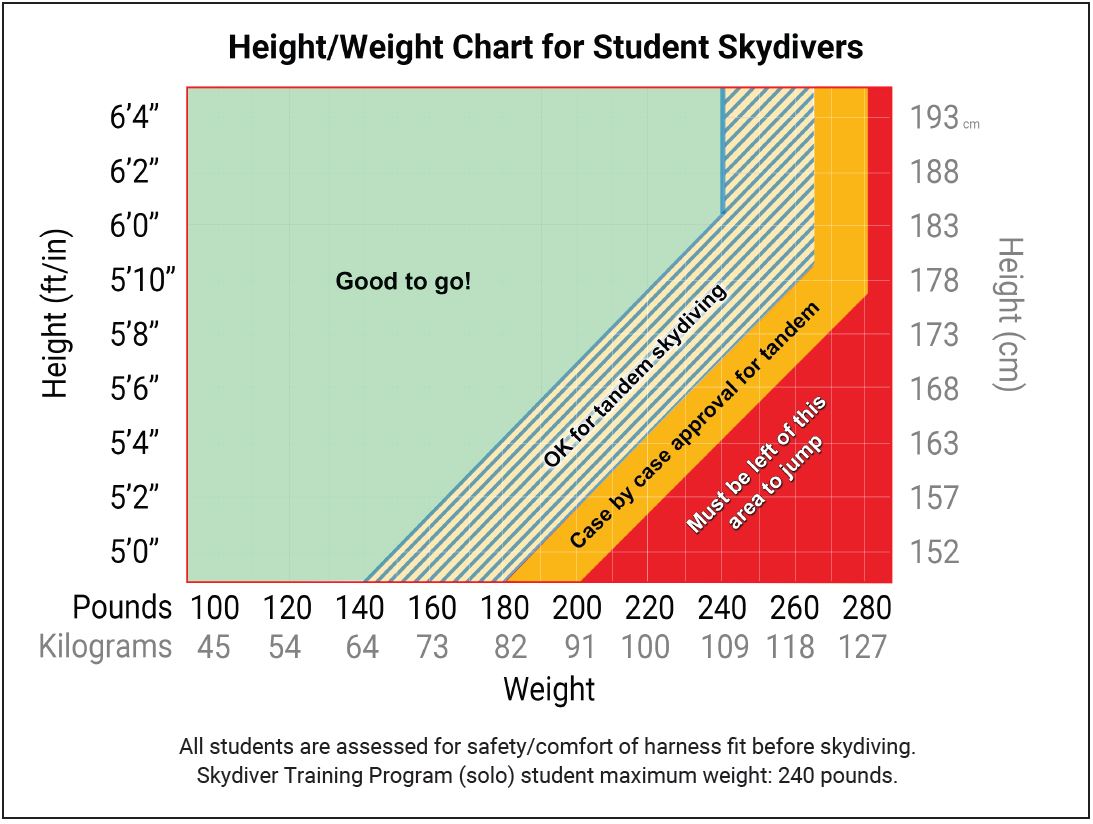 What if the weather's bad for skydiving? Will you call me to reschedule?
No, we won't. We want you to fly as much as you do, so we won't cancel your jump ahead of time in case the weather is better than forecasted (which happens a LOT!). Call ahead if you're concerned about weather (903-364-5103). We'll give you a rain check if you can't skydive that day.

What would keep me from skydiving today?
Scuba diving within 24 hours before your jump
Being over the weight limit (see above)
Being under 18 years of age
Being under the influence of drugs/alcohol
Inclement weather (rain/excessive wind/clouds), and/or
Not having your government issued photo ID to prove you're who you say you are and that you're at least 18 years old.
More common questions!
Do you have discounts/specials?
What are your hours of operation?
We are open from 8 a.m. to 6 p.m. Monday through Friday, and 7:30 a.m. through sunset Saturdays and Sundays.

What should I wear to make my first skydive?
Wear comfortable, relatively close-fitting clothing for the current weather (we will put a jumpsuit on over your clothes). Here are some examples of suitable clothing:
Jeans
Shorts
Sweats
T shirt
Tennis shoes/other athletic shoes
The following clothing is not recommended:
Flip flops (or any other shoes that are not secured to your feet)
Shoes with built-up heels
Boots with speed lace hooks
Five-toe shoes
Any clothing that will restrict your movement
Any clothing that will be uncomfortable under a snug harness (i.e., very baggy jeans can bunch up)
Should I eat before skydiving?
It's a good idea to eat a light meal or snack before you head to the drop zone.

I don't know if I can do this without a little fortification. Can I have a beer or something before jumping?
You will not be allowed to skydive under the influence of drugs and/or alcohol.

How long does the entire process take?
Plan on spending your entire day at Skydive Spaceland. We can usually get you skydiving in much less than a full day, but many variables (such as weather) could extend your stay with us.
Feel free to bring books, magazines, hackysacks, hula hoops, or other things to do just in case.
Hot Tip #1: The most efficient way to do your first jump is to schedule a class early in the day (any weather/other delays pile up throughout the day and affect later schedules more than early ones).
Hot Tip #2: Regardless of when you are scheduled to jump, your check-in will be streamlined if you have already paid for your skydive in full online or on the phone.
What if weather keeps me from jumping? Do I get a rain check or refund?
We do not give refunds, but we will absolutely give you a rain check that never expires if you are unable to skydive due to weather.

Can my friends come and watch?
Do you have a wind tunnel for indoor skydiving?
Sadly, no.

What forms of payment do you accept?
We take cash and most major credit cards (American Express, Visa, MasterCard, Discover, and ATM cards with credit card logos).

Do I need to make a reservation for a tandem skydive?
No, but as availability is limited we strongly recommend it to hold your spot and if you book at least 24 hours ahead of time, you'll save $20! To make a reservation, please
book online
or call us at 1-800-SKY-DIVE (local area) or 903-364-5103.
If you arrive to skydive without a reservation, we will do our absolute best to get you in the air that day! Please arrive by 3pm.

Is a deposit required?
Do you offer video of tandem skydives?
We sure do and we have a few options!
1) Relive all the fun with our SELFIE VIDEO filmed by your instructor and edited to your choice of music style for $129+tax
2) Our PRO PACKAGE includes a Professional Video & 75-100 High Resolution Photos from our videographers, who fly along with you to get that view of you in the big blue sky for $179+tax
3) Our ULTIMATE PACKAGE gets you EVERYTHING for $229+tax!
No matter which one you choose you'll walk away with your experience on a Spaceland USB drive!–perfect for easily sharing with friends and family! Find out more about video…
Can I get the photos without the video, or vice versa?
No. Your videographer will capture both at the same time, so our costs and your price are the same either way. You might as well enjoy both! 🙂

Do I have to reserve my video ahead of time?
It never hurts to let us know you want video early (especially if you're paying online and getting it all out of the way  before you arrive), but no. You can purchase the video when you check in to do your tandem.

Can I take my GoPro on my tandem skydive?
Sorry, but no. Cameras are great fun, but they are also a great distraction that can compromise safety. This is why we only shoot video/photos on tandem skydives with experienced videographers who are accustomed to handling both skydiving and a camera at the same time. The United States Parachute Association recommends that no skydiver carry a camera on a jump until they have at least 200 skydives, and we follow this recommendation. You are more than welcome to use any camera gear you want on the ground before and after your jump.

Can I do my first skydive by myself instead of tandem?
At Skydive Spaceland, we only offer tandem for your first skydive, where you are harnessed to an experienced instructor. Experience the thrill of skydiving with the comfort of an expert guide for every step of the way (plus it's more time-efficient than jumping solo, which requires about a 6-hour instructional class before jumping). For tandem skydiving, you'll learn the basics during a 30-minute class and we will get you skydiving soon afterwards.
Find out more about tandem skydiving…
I want to jump again. Do I learn new things on the second dive?
Yes! On your second jump you'll learn freefall maneuvers including turns and tracking, be more responsible for altitude awareness and parachute opening, and learn about parachute safety, control, and navigation.
Note: If you have not made a tandem skydive with us in the past 90 days, your instructor will review Tandem Jump #1 procedures before practicing Jump #2 Tandem learning objectives.

I really want to skydive by myself. How do I learn to do that?
Great! We look forward to working with you in our
Skydiver Training Program
, where you can enjoy learning your new passion in a state-of-the-art, complete training program with modern skydiving gear and dedicated instructors who video each jump for an optimal learning experience.
I need transportation to Skydive Spaceland. Do you have a shuttle?
We do not, but you can usually get out here easily with Uber/Lyft or Yellow Cab: 214-426-6262. Please be advised that we are located outside the pickup range for some services from Dallas/Fort Worth, so work out a return trip with your driver before you are dropped off!
Can I bring my pets and/or children?
Pets: No pets other than service animals are permitted in operating areas, but they are welcome in the parking lot and RV areas. Any service animals in operating areas must be leashed and adult-supervised at all times. Clean up after them.
Please ensure that children and pets/service animals are directly supervised by a responsible adult at all times. If you are skydiving, please have a responsible adult supervising your children/service animal while you are jumping to ensure they stay safe and do not injure anyone or their life-saving equipment (even unintentionally). We love having all members of our family around, but we do not run a day-care service for animals or children.
Still have questions?
Please call us at 1-800-SKY-DIVE or 903-364-5103–we'd love to talk to you!