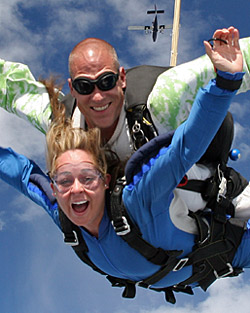 Weekends
Weekdays
Second tandem jump
* When purchased the day you do your first jump, no expiration, jump anytime.

Save $20 per person–pay in full at least 24 hours ahead! Or save $10 with a $50 deposit at least 24 hours ahead.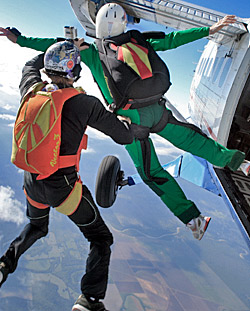 Solo Transition Class (Ground School)
(includes study materials)

$60.00

STP Jumps 1-16

$150.00 ea

STP Jump 17 (lower altitude)

$95.00

STP Jump 18 (Graduation jump)
FREE

Save $20 when you buy two STP jumps together or save $500 when you Get Your Skydiving License in a WEEK!

Call us to schedule STP training: 903-364-5103
USPA 'A' License Holders and Above*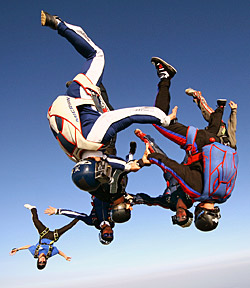 Lift ticket up to 14,000 feet*

$25.00 ea

Hop and pop (5,000 feet)*

$19.00 ea

Gear rental (rig, jumpsuit, helmet, goggles, altimeter)

$25/jump plus tax

 * Prices for licensed skydivers with their own gear. See our skydiving team rates!